The Haut Languedoc offers a wide range of outdoor activities, more family to the more sporting, a few km from Prémian. Here is a small selection.
Hiking
Large variety of walks and hikes to suit all tastes:
rando_premian_chemin_memoire : from Prémian, historic trail, lined with panels explaining the cantonment of resistance in the bush, about 2h.
Ichis's dolmens
The rock of Mercadal path that leads up the rock overlooking the village and valley. It is topped by a statue of Virgin "black"
PR Notre Dame de Tredos : very nice route, 13 km 4:30, accessible by the GR 77.
The 1,000 steps hike : 15 km, 4:30, D +,. The trail goes gorge formed by the stream the desktop and meeting many waterfalls and water basins. We arrive at about 1000 m of altitude, jump Vezoles which offers a breathtaking view of the valley, the sea and the Pyrenees, before returning to the village.
Le Massif Caroux Espinouse: a few km from Prémian, this massive is a prime location for hikers with a wide choice of marked hiking trails. The natural reserve of hunting and wildlife reflects the ecological richness of the site. If you take the time you may come across a mouflon family!
Trail
Excellent terrain for beginners or experienced trail runners: Many events are organized throughout the season. Trail Somail 6666 Occitan
Stop for trekkers
The camping ** Jaur terraces can be a perfect stop for trekkers who carry out the GR Country Haut Languedoc vineyards, the way to Saint Jacques de Compostela (Arles route), or the GR 77 and GR 7.
Hiking with donkeys
Many providers offer donkey rental for a ride or a hike.
http://www.signoles.com/ http://www.analaya.fr/ http://www.auxpetitssabots.com/
Climbing
In the massif of Caroux Espinouse: Site school big ways and adventure playground.

Canyoning
Many canyons for initiation or to discover a privileged way of landscapes.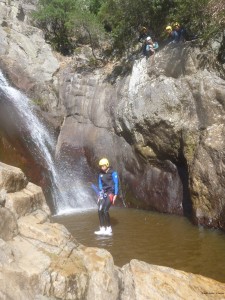 Potholing
Canoe
Walk down the Orb River, which flows Day and discover the magical landscapes. Two rental bases:
Cycling and mountain biking
The Voie Verte or Passa Païs
The Voie Verte is a safe cycle route built on a former railway line, 76 km long, between Mazamet (Tarn) and Bédarieux. Ideal for family walks, the way runs between green landscapes of the Tarn and Herault Mediterranean vegetation. More information on the site Vélo route et voies vertes de France.
Espace VTT Caroux in Haut Languedoc : a set of 12 marked trails around Prémian, labeled FFC since 2013, for mountain biking at all levels. Cyclo tourist routes also available to you through the entire mountain. Rental bikes and mountain bikes in Mons Trivalle to gas station.
---
Many other activities are possible: paragliding, tree climbing, horse riding, donkey hire, fishing … For more information and contact information for escorts, visit the websites of local tourist offices: